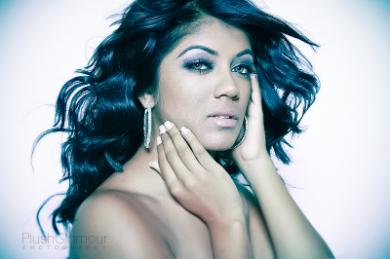 About the Artist
Makeup By Bella is a Makeup Artist and Hairstylist. She is currently living her dream in the beauty industry doing what she has always wanted to do with passion. She has appeared in MTV shows as the lead Makeup Artist. Her work has been published in many magazines nationwide and she has done numerous fashion Shows and photoshoots of all styles. Bella is a much sought after Makeup Artist in the Florida Area.
Services
Makeup by Bella provides Hair and Makeup services for all types of events. Please contact for booking and rates
Your Experience
Make sure to look through our photo gallery for a sneak peak at the treat that awaits.
Testimonials
"Yahaira was absolutely amazing to work with! She was on time (which was important since we had a tight schedule) Her work was stellar! Each of us (7 in all) had a little different style of make up done and she did a great job. Our make up stayed on all day & through the night without feeling heavy or caked on and it looked beautiful. She was able to "get" what each of us asked for and fully delivered! I will use her next time I need or want a pro to do my makeup." - Christina
"Yahaira was Amazing! I met her when I went to Aveda and she did my make-up for my engagement pictures! My husband had never even seen me in make-up before & he Loved it! We were so Excited for how those pictues came out we asked her if she could travel for my wedding day and she was very flexible to come an hour North of Orlando. She did an Amazing job for me as well as my attendants, mothers & flower girls! Everyone Loved how natural & beautiful we all Looked! I would highly recommend you choose Makeup by Bella for your BIG Event! She was Extremely friendly and accomodating. She stayed right up until the moment I walked down the aisle to make sure I was happy & at ease! Thanks again for making our Big Day perfect!" - Sarah
"Where do I begin with this talented individual named Yahaira! I have used her on several occassions for hair and make-up. Even on my worse days she makes me look and feel like a million bucks. The uniqueness in which she applies the make-up and knows what colors are good, what can hide blemishes well, what works for your skin type/tone is amazing. I recommend Yahaira to anyone that wants to look and feel amazing anytime or anyday of the week, especially for special occassions where you want everyone to turn around and say "Wow...you look great!". " - Marisella
"She was a pleasure to work with!! She did my Hair and Makeup for my Anniversary Party. I told her what i wanted and she excuted it!. I would recommend her all the way. Two thumbs up! " - Jeannette